9th Annual Course on the BBB in Drug Development 2018 (Leiden, The Netherlands)
October 15, 2018

-

October 17, 2018
General
Following the previously successful ones, the 9th Annual Course on the BBB in CNS Drug Development is organized in 2018!
Aim
This course addresses the latest insights on role and functions of the Blood-Brain Barrier (BBB) and intra-brain distribution in research concerning drug development regarding drugs aimed for a target within the CNS or drugs aimed to stay outside of the CNS, and will address also CNS drug delivery and CNS diseases. It provides in depth insight in the complex function of the BBB with regard to transport kinetics in health and disease.
Background
There is a high unmet medical need in the treatment of CNS diseases and this problem is getting worse as the number of people suffering from CNS diseases is growing. This implies that there is a huge market for new CNS drugs. However, the development of new CNS drugs is notoriously difficult. For a proper CNS effect the drug should have the ability to cross the BBB and then to reach the relevant target site within the CNS by adequate intra-brain distribution.  Also drugs that are aimed to have a peripheral action, but may bear risks for CNS side effects can be better optimized with more knowledge on BBB transport and CNS side effect site distribution.
Thus, knowledge on the physiological and pharmacokinetic aspects of drug delivery to the brain and distribution within the brain compartments is of utmost importance for all drug delivery scientists.
Who should attend?
This course will be of benefit to researchers from Academia, Big and Small Pharma Industries, Regulatory Agencies and Contract Research Organizations with a need for better understanding of the BBB and factors that determine CNS target site distribution of drugs. Also medicinal chemists who need further knowledge on pharmacokinetic principles of CNS distribution can be guided in finding more optimal molecules for CNS action or for the avoidance of CNS side effects. A general understanding of physiology and minimal knowledge of differential equations is expected (some information can be provided upon request).
Learning Objectives
After having taken this course, the participants will
have in-depth insight into mechanisms that contribute to BBB transport and intra-brain distribution, with special emphasis on drug delivery and active transport mechanisms
know about the driving forces that determine whether or not a CNS drug will be at the right place, at the right time and at the right concentration
be able to compare and choose between different methods for studying parameters that can be used to understand or predict BBB transport and CNS distribution
Program
Monday Oct 15th 2018
Basic Aspects of the Blood-Brain Barrier and Pharmacokinetic Principles
| | |
| --- | --- |
| 09.00 – 09.30 | Welcome and Introduction |
| 09.30 – 10.00 | BBB Morphology, Anatomy, Physiology and Function |
| 10.00 – 10.30 | Coffee and Tea |
| 10.30 – 11.30 | BBB Transport Modes |
| 11.30 – 12.30 | Larger Molecules and Approaches to Overcome Problems in CNS Drug Delivery |
| 12.30 – 13.30 | Lunch |
| 13.30 – 14.30 | General Pharmacokinetic (PK) Principles |
| 14.30 – 15.30 | BBB transport: Rate and Extent. Impact on Brain vs Plasma PK |
| 15.30 – 16.00 | Coffee and Tea |
| 16.00 – 16.45 | Factors in CNS Drug Effects |
| 16.45 – 17.30 | Discussions BBB Research Issues from Participants |
| 18.00 – 20.00 | Drinks and Dinner at Course Hotel |
Tuesday Oct 16th 2018
Principles and Methods for Investigating BBB Transport 
| | |
| --- | --- |
| 09.00 – 09.30 | In Vitro Methods (Cell Cultures, Monolayers) |
| 09.30 – 10.00 | In Situ Methods (Brain Sampling Techniques) |
| 10.00 – 10.30 | Coffee and Tea |
| 10.30 – 11.30 | In Vivo Monitoring Methods: CSF & Microdialysis |
| 11.30 – 12.00 | In Vivo Monitoring Methods: PET |
| 12.00 – 13.00 | Lunch |
| 13.00 – 13.45 | Sources of Variability in CNS Drug Distribution |
| 13.45 – 14.45 | In Vitro Methods (Brain Slice and – Homogenate Uptake) |
| 14.45 – 15.15 | Coffee and tea |
| 15.15 – 15.45 | Factors that Influence Unbound Brain Pharmacokinetics |
| 15.45 – 17.15 | Hands-on Computer Exercise and Discussion: Plasma and Brain PK Relationships |
| 18.00 – 21.30 | Drinks and Dinner downtown Leiden |
Wednesday Oct 17th 2018
Integration and Translation of CNS Drug Delivery Principles
| | |
| --- | --- |
| 09.00 – 10.00 | Translational PK/PD Relationships of CNS Active Drugs |
| 10.00 – 10.30 | Coffee and Tea |
| 10.30 – 11.30 | What Parameters to Use in CNS Drug Development? |
| 11.30 – 13.00 | Hands-on Assignment on BBB Transport and Intracellular Distribution |
| 13.00 – 14.00 | Lunch |
| 14.00 – 14.30 | Discussion on Hands-on Assignment |
| 14.15 – 14.45 | Concluding Discussions and Perspectives |
| 14.45 – 15.15 | Certificates and Final Comments |
Evaluations from the previous BBB course in Uppsala
I found the course to be very valuable for my present work: Average 9.1 on a 1 – 10 scale, where 10 is "very much".
I would very much like to recommend this course to colleagues: Average 9.5 on a scale 1 – 10, where 10 is "very much".
Citations from the BBB course participants:
"Thank you for the intensive course on brain pharmacokinetics. The structure and materials are well – organized. It is great that there was possibility to discuss aspects related to work and do practical assignments"
"Nice course with the opportunity to discuss immediately"
"Very good with some hands – on especially with Berkeley Madonna ."
"Very nice and very interesting. Equations and calculations I found a little difficult, but the use of hands – on exercises helped very much"
"Thank you for the high quality teaching, discussions and dinners. I would highly recommend the course to my colleagues and looking forward seeing you again"
"Personally I think you are very good teachers and very kind to us"
Location
Hotel Leiden
The course will take place at Hotel Leiden, Haagsche Schouwweg 14, 2332 KG Leiden Tel +31 (0)71 5 731 731, Fax +31 (0)71 5 731 710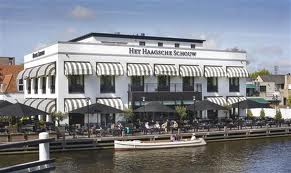 Van der Valk Hotel Leiden is a four star hotel located on the A44, just outside the city center of Leiden. The flowing water of the Old Rhine at her side, makes Van der Valk Hotel Leiden a very special location. It is easily accessible by car the A44 highway (The Hague-Schiphol-Amsterdam) and by public transport. By bus, it takes only ~5 min from the Central Station to the Hotel (line 43).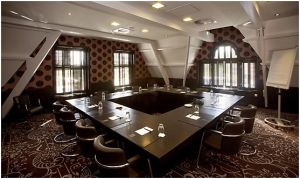 Map
Registration
Fee
The course fee includes course attendance, course material, lunches, dinners, coffee/tea at start and during breaks. It does not include accommodation.
Payment completed before Feb 1st 2018:

| | |
| --- | --- |
| PhD students* | € 1195,- (excl. VAT) |
| Academic | € 1395,- (excl. VAT) |
| Business | € 1595,- (excl. VAT) |
Payment completed before July 1st 2018:

| | |
| --- | --- |
| PhD students* | € 1395,- (excl. VAT) |
| Academic | € 1595,- (excl. VAT) |
| Business | € 1795,- (excl. VAT) |
Payment completed before September 1st 2018:

| | |
| --- | --- |
| PhD students* | € 1695,- (excl. VAT) |
| Academic | € 1895,- (excl. VAT) |
| Business | € 2195,- (excl. VAT) |
VAT is currently 21%. (please check the current regulations on paying VAT in your situation)
*PhD students should accompany this form by a letter of their supervisor to ensure the status of PhD student.
Registration Form
Please register via the digital registration form at:
http://www.bbbcourses.org/registration/
A specified invoice can be made upon request. Registration is complete upon receiving the payment. A confirmation of payment and therewith registration will be sent by email.
Payment information

In Focus
ING Bank (PO Box 2338, 3000 CH Rotterdam, The Netherlands)
IBAN Account NL47 INGB 0651 4673 73
BIC: INGBNL2A
Company Information
In Focus
SbN Doormanlaan 8
2243 AL Wassenaar
The Netherlands
VAT: NL 8159.63.567.B.01
C. of C. no: 272 830 74
Cancellation policy
In case of cancellation before July 1st 2018 payment will be restituted (-10% administration costs).
In case of cancellation after July 1st 2018 there will be no restitution, but the participant may be exchanged for another participant.
Team
The course is a coproduction of In Focus and Udenaes Consulting:
Margareta Hammarlund-Udenaes is a Professor in Pharmacokinetics and Pharmacodynamics at Uppsala University, head of the Translational PKPD Group, and Dean of the Faculty of Pharmacy in Uppsala. Her research is focused at studying pharmacokinetic aspects of BBB transport of drugs in relation to CNS effects, which has led to the development of new concepts within the BBB transport area, focusing on unbound drug relationships. The concepts make it possible to study the BBB contribution to drug transport to the CNS. A method frequently used is microdialysis, but also PET and other techniques are utilized. Her research group has also optimized in vitro methods for more rapid screening of BBB transport properties in drug discovery. They also study nanodelivery to the brain. Dr Hammarlund-Udenaes is an Associate Editor of Pharmaceutical Research and a member of the Editorial Advisory Board of Journal of Pharmaceutical Sciences and Fluids and Barriers of the Central Nervous System (FBCNS). She became an AAPS Fellow in 2005 and is a frequent lecturer at conferences and in drug industry within the BBB transport – pharmacokinetics area. She co-founded and has co-chaired several of the International Symposia on Microdialysis in Drug Research and Development together with Dr de Lange. She was the Chair of the Gordon Conference on Barriers of the CNS in 2014. Her company Udenaes Consulting (udenaesconsulting@gmail.com) gives advice to drug industry in PKPD and BBB transport issues.
Elizabeth de Lange is heading the Quantitative and Translational Pharmacology Research Group at the Research Division of Systems Biomedicine and Pharmacology at the Leiden Academic Centre of Drug Research. She obtained her PhD on The Use of Microdialysis to Study BBB Transport Characteristics of Drugs. Her group's research involves the identification and characterization of the context dependency of the rate and extent of key factors in the dose-response relationship of CNS drugs in health and CNS disorders, with the ultimate aim being to aid in the prediction CNS drug effects in the clinical setting (translational research). As a highlight, recently a comprehensive CNS physiology-based pharmacokinetic model has been developed that is able to adequately predict drug concentration profiles in multiple CNS compartments in human. She co-founded and has co-chaired several of the International Symposia on Microdialysis in Drug Research and Development together with Dr Hammarlund-Udenaes, and organized many other scientific events among which the 2014 Annual Meeting of the American Association of Pharmaceutical Scientists (AAPS). She is an AAPS Fellow since 2013. She is a frequently invited lecturer. Her company In Focus provides courses, training and gives advice on pharmacokinetics, BBB transport, (CNS) target site distribution, binding  kinetics and effects (PKPD) (info@infocus-ecmdelange.nl).
Hotels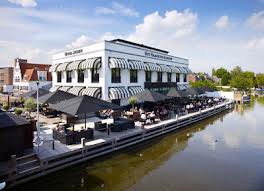 Van der Valk Hotel Leiden
Haagsche Schouweg 14
2332 KG Leiden
071 5731731
Het Haagsche Schouw is combined with a very modern 4 star Hotel. Comfortable and tastefull decorated rooms furnished with one double bed.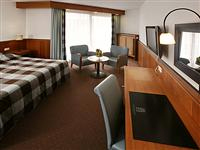 The rooms have a spacious bathroom with bubble bath and separate shower. All rooms are equipped with a flatscreen television with remote control, telephone, safe, writing desk with a comfortable chair, wireless internet (WiFi) and a small refridgerator.
For information on other hotels (few examples below) please visit Booking.com
Golden Tulip Leiden Centre
Schipholweg 3, 2316 XB, Leiden, Nederland
Holiday Inn Leiden
Haagse Schouwweg 10, 2332 KG Leiden, Nederland
Tulip Inn Leiden Centre
Schipholweg 3, 2316 XB Leiden, Nederland
Marienpoel Hotel Leiden
Marienpoelstraat 1A, 2334 CW Leiden, Nederland